Investment News, 12/05/2013
Anja Luesink was quoted in Investment News about Americans' retirement preparedness on 12/05/2013.
  FPA Recognizes Financial Planning Leaders

The Heart of Financial Planning Award of the Financial Planning Association (FPA) recognizes individual professionals, financial planning firms, FPA chapters or organizations who engage in extraordinary work, contributing and giving back to the financial planning community and public through financial planning.

Anja Luesink, the president of Luesink Financial Planning, was honored at the 2012 annual meeting of the FPA in San Antonio with the Heart of Financial Planning award. She also received the NY Chapter Heart of Financial Planning Award in October 2012.
 WallStreet Journal, 09/10/2012
Anja Luesink was featured in the Wall Street Journal and gave advice to a business owner in The Game Plan.
Financial Planning Magazine, August 2011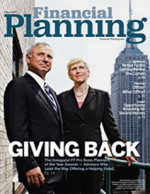 Anja Luesink on the cover of Financial Planning Magazine
We are very proud that Anja Luesink was featured on the front cover of the August 2011 issue of Financial Planning Magazine and received an award for the FPANY Pro Bono activities.
Investment News, December 2010
Anja is quoted in Program helps women cope with 'life transitions' about the Women, Meaning and Money workshops she co-presents with Clare Stenstrom.
Permanent U.S. residents represent adviser opportunity
Anja Luesink discusses advising expat clients, a major part of Luesink Financial Planning's client base.
Investment News, September 2009
Foreign-Account Holders may face double trouble. Not all are aware that non-bank offshore assets must be reported to Treasury as well as IRS
  Anja Luesink, a New York City-based certified financial planner, believes that most advisors can adequately handle expat clients on their own if they create the right network and don't extend themselves to jurisdictions beyond their knowledge and comfort zone.

Luesink has a number of foreign national clients from her native Holland who live in the U.S. "I try to attract clients from there because I'm aware of their circumstances," she says. She also has foreign national clients from Canada and Great Britain. She says she's built a network of specialists in those countries, such as tax advisors who are familiar with local tax issues.

"I wouldn't take on clients in places I'm not familiar with, such as Mexico," Luesink says. "You have to be very careful or you'll make mistakes. But who else will do it? You have to start somewhere to build expertise."